Summer may be over but the beat never ends. This fall we are excited to bring a stacked lineup of uniquely curated events to satisfy the desires of music lovers from all backgrounds and flavors. Join us as we welcome some of the brightest emerging talents in the world of dance music as well as some serious NYC underground heroes.
We kick things off on October 1, with a massive collaboration with our homies at Dubday-NYC to bring dubstep legend and Deep Dark & Dangerous standout Rez back to New York City. Dubday has become a weekly institution and an absolute cornerstone to the underground scene, giving countless artists a platform to express themselves. We're thrilled to partner up and bring bass connoisseurs the very best in sound system music.
On October 12, we are extremely excited to join forces with AZ presents, GBH Events and Basshead Squad to bring seminal bass music record label Disciple to New York City. H<3art Beats will be curating the "Dragon's Lair" at the star-studded Kingdom showcase. Alongside up-and-coming underground talents like Charmae, Cryostatik, The Festival Finneser, Birds & Bees, Patrick James, Afino, Gnawbox, Forcina and Shlyn, we are giving one aspiring artist the chance to realize their dream and headline our specially curated room.
Grab your tickets to The Kingdom with Virtual Riot, Modestep Live, Barely Alive, Terravita and many more here.
Think you have what it takes? Submit a short mix to heartbeatsny@gmail.com with "Disciple Submission" in the subject line to be considered.
On Saturday, October 4, we're getting ready for this massive event with a FREE official Pre-Party at the brand new Dekalb Market venue. A ticket to the October 12th show will grant you free access, as well as other perks. A limited amount of free with RSVP ticket will be available.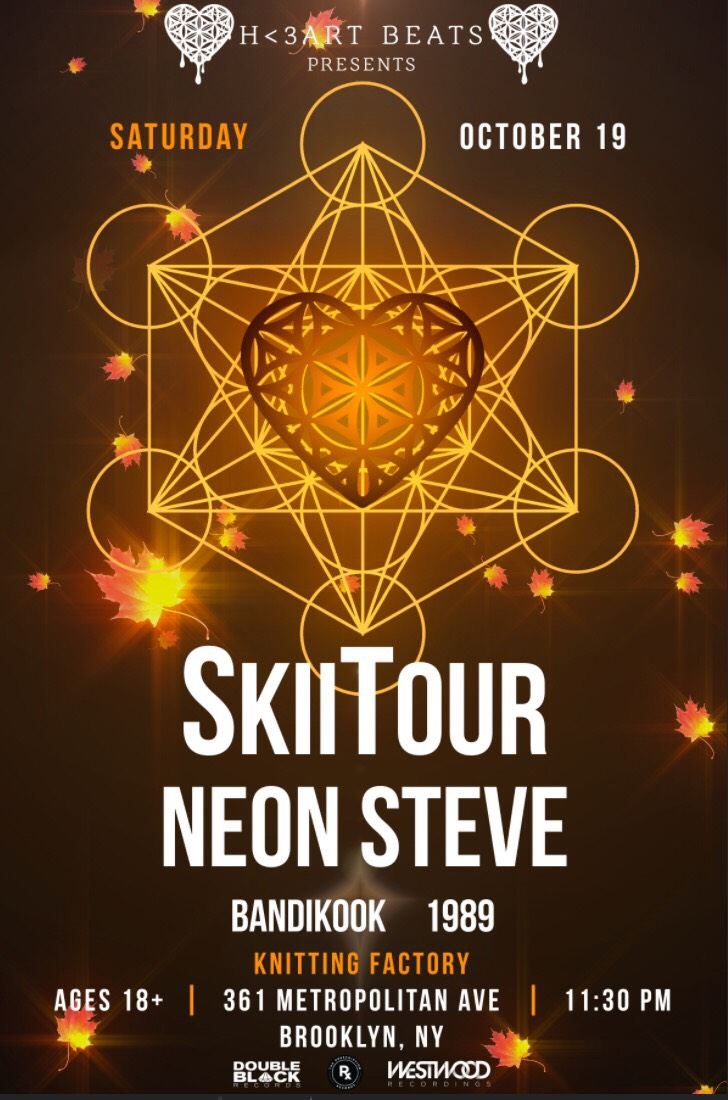 Canadian party legends Skiitour return to the Big Apple on October 19. We're ecstatic to welcome back our old friends from up north for yet another one of their trademark sweltering sets. If you were in attendance for SkiiTour's New York debut in March then you know full well just how hectic things get when this duo take the stage. Masters of procuring the finest selections of booty-shaking house tunes, Skiitour bring infectious energy with them everywhere they go. 
Fellow Canadian trouble maker Neon Steve will be making the trip to the big apple as well to make his NYC debut. This absolute ace behind the decks has been making major waves far and wide in the world of dance music and is primed for superstardom. Neon Steve's incendiary brand of house is sure to lay waste to the Knitting Factory dancefloor. You won't want to miss a chance to see this beast in action and remember the first time you saw him grace the stage.
Our homies Bandikook and 1989 round out this scintillating lineup of house music purveyors. Get your tickets for Skiitour & Neon Steve on October 19, here.
Finally, after an absolutely stacked October, we welcome Megan Hamilton and Maddy O'Neal to the Knitting Factory on November 1. We're incredibly excited to bring these two immensely talented, groundbreaking artists together on the same night. Stay tuned for some major additions to this lineup that we think you will definitely enjoy. Get your tickets for Megan Hamilton & Maddy O'Neal on November 1, here.
We hope to see you on the dance floor this fall as we traverse through a myriad of genres and venues to bring you an array of immersive, creative experiences. We'll see you out there!